Introduction
The Butler Institute is honored and privileged to present the remarkable paintings of Fred Staloff. Staloff's career, which spans more than six decades, is a testament to the quality and staying power of American painting, and a wonderful reminder that painting continues to be the most vital of the visual arts.
Fred Staloff is blessed with an eye for composition and one can be comfortable in classifying his arts as formalistic. And while his career demonstrates the classic twists and turns of most of the great painters from history, he remains devoted to creating an exciting visual experience for the viewer. His approach to painting can be said to derive from the visually oriented work of Paul Cézanne, yet it also owes much to the emotional energies of both the European and the American brands of Expressionism. His painterly work does indeed make reference to the spontaneity that we associate with expressionist painting; but in reality, the careful placement of the visual elements of line, shape, texture and color is what guides and motivates him.
This retrospective exhibition is a celebration of one man's artistic vision and talents, but it also provides a wonderful educational opportunity for the community.
To walk through this retrospective exhibition is to understand how human creativity works and how one idea is explored and executed as another direction begins to form. We can see, for example, how Fred Staloff uses recognizable themes as a point of departure to open up other territories to explore. The exhibition is also an encylopedic look at one artist's view of the world, filtered through the prism of life experiences.
It is appropriate that The Butler Institute of American Art host this extraordinary body of work since the Butler was created to both collect the art of Americans, and to educate the public about American art and artists. This exhibition and accompanying catalogue would have indeed pleased the founder, Joseph G. Butler Jr., who believed early on, that American art can rank with the greatest art created in any culture. I believe that this exhibition of the work of Fred Staloff underscores that point.
I would like to thank all those who made this exhibition a reality, including our good friend Gary Erbe, who introduced us to the art. I am grateful to Janette Staloff for her tireless efforts and encouragement. She is a remarkable woman. But most of all, we thank Fred Staloff for his extraordinary talent and wonderful art which inspires us and gives us joy.
Louis A. Zona

,

Director

The Butler Institute of American Art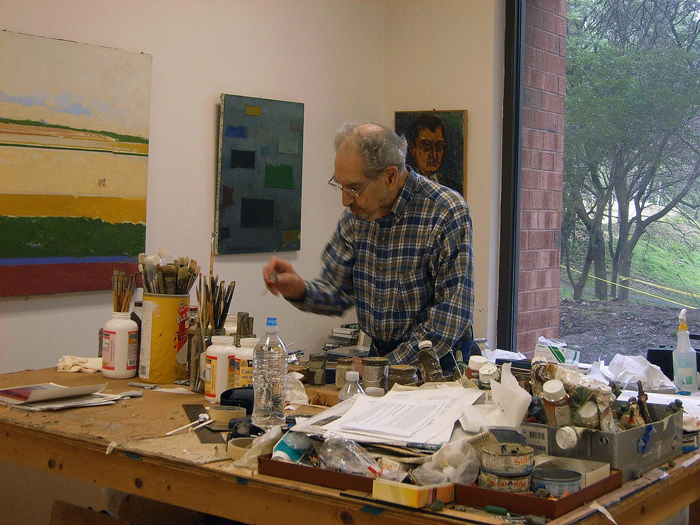 Starting with a visual experience or insight, and deciding on the appropriate format and scale, I then proceed to create the language of forms, colors and textures. With its myriad decisions both reasoned and intuitive, I finally arrive at a transposition or poetic equivalent of the original experience."